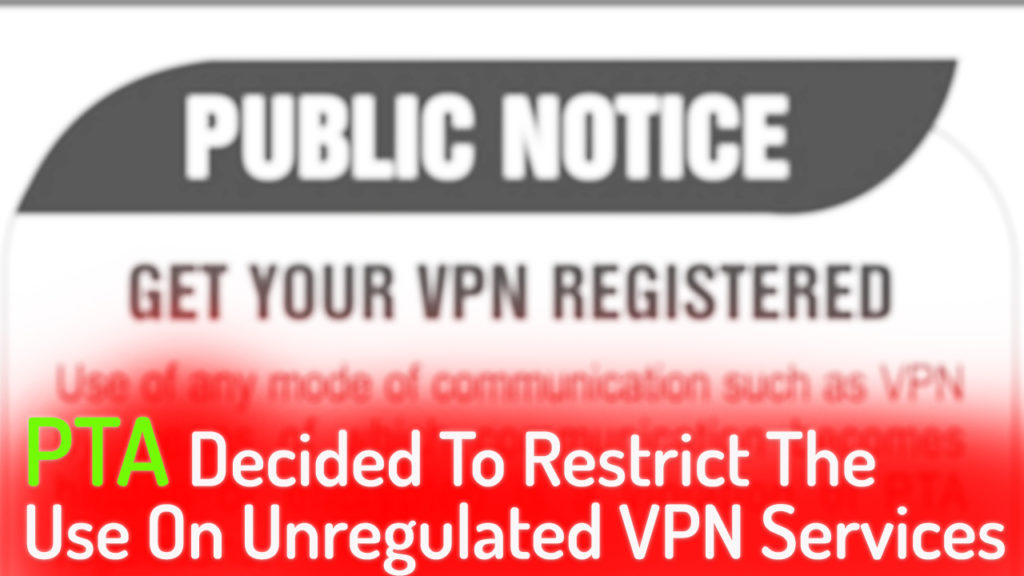 Pakistan's telecommunication regulation implementation authority announced to ban the use of unregulated non-registered VPN services in Pakistan. The ban will be active from the 30 June 2020 all the unregistered VPN services users will face IP blocking issues along with other legal proceedings against them.
Illegal VoIP in Pakistan
PTA took this decision due to the illegal operations of Voice over Internet protocol system usage that is hidden from the virtual private network services to hide their activity from the territory jurisdictions. The Pakistan telecommunication authority has introduced a smart and swift method initiated by service providers to verify the use of particular corporates or an individual's legal VPN usage.
The Voice over internet protocol services uses the technique of converting voice into digital signals to make possible communication of voice data with in the channel. In Pakistan, different agencies use this type of mechanism to provide VoIP services by replacing their IP address through different VPN services which causes encryption and the authorities can not fully regulate the activity of those operations that's why they block all the un-regulated VPN services.
People in Pakistan use VPN for their private interests most commonly such as blocked or censored content either the local ISPs or blocked by the providers. The blockage on the flood of un-regulated VPN services causes difficult to use or access to the inappropriate content or activities throughout the internet. Globally believers set the trend of freedom of speech not only on the physical world but also on the online community for human rights protection. Govt. want to control the activity of their citizens to protect their life from harmful or dangerous consequences.
The blockage on unregulated VPN services is generally a positive decision because it makes the usage of technology more appropriate and restricts the undisciplined, unethical, and misuse of the internet such as easy to access adult content and other illegal activities which causes Severe life and social immoral threatening consequences.
Banning the unregulated VPN services made easier and clarify the ban on such websites or applications which are potentially harmful to their users. It becomes harder to access prohibited content on the internet after banning unregulated inappropriate VPN services.
Now it's another opportunity to make some more money from this regulation wave after the trend of mobile IMEI verification fees. PTA issued a public notice on Facebook and their website to alert the users of VPNs across Pakistan either they are using it for personal interest or they involve in a professional manner.
Countries Which Has Already Ban VPN
Although it's impossible to completely restrict and regulate the activity of the citizens of a particular territory according to his government laws despite the following countries has taken this decision to ban VPN.
Belarus govt try to ban Tor and VPN services in 2015 to regulate the activity of internet users.
On March 31, 2018, China started banning unregulated VPN services in the country through a deep packet inspection technique to monitor the traffic and blocking controls.
Iran tries to ban VPN services like purchasing or selling that kind of service is totally prohibited that is unlicensed from 2013 but since it does not take as seriously as much expected and was announced.
Since 2014 Iraq put a high level of prohibitions on internet services like VPN and social media to combat ISIS's online presence.
Oman started strict regulation on using VPN services since 2010 not only take legal actions and punished also charge 500 rials of fine any individual notice as a violator of the law. Any company that uses unlicensed VPN cause a fine of 1000 rial.
Russia has taken strict action against VPN services which are unrestricted and unregulated. Since 2016 it is illegal to operate without proper govt jurisdiction agreement. In 2017 Russian govt tighter more regulation against VPN providers.
In 2016 Turkey has also introduced regulations against VPN providers to protect the illegal activity of citizens by hiding the identity over the internet. Violation of law in Turkey cause marks you as a person out of enforcement of the law.
In July 2018 Uganda govt ban social media and other dating sites along with VPN service introduce with New tax pay before accessing the Services.
As of majority internet ruling timings, 2016 United Arab Emirates has also started restriction on VPN use along with VoIP calls but allowing the local authorized apps list given by them.
Venezuela is in the list as of its largest provides an attempt to block VPN and Tor services probably on government orders.
Regulations are not only made for control but also to organize the living standards to minimize the crime which are potentially disastrous for society and cause severe consequences in the future. What you think about internet censorship and about PK Govt. legislation on VPN services what will be the overall implementation result and reaction from the citizens tell us below.